TwinStar Credit Union Wilsonville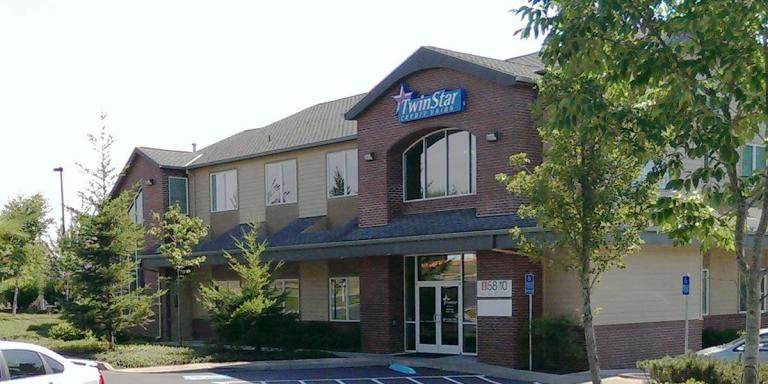 Hours
Mon - Fri:
9:00 am-5:30 pm
Currently closed
Branch Address
25375 SW Parkway Avenue
Wilsonville, OR 97070
United States
About
TwinStar Credit Union will be closing the Wilsonville branch permanently on July 31, 2020. We have not been able to add new members in the Wilsonville area at the rate we anticipated and current members like you utilize our website, mobile banking platform, ATMs and other electronic access points at a high rate. In fact, we've heard from many members that this way of banking is not only easier and safer but the preferred method.
With more than 120,000 members and over $1.4 billion in assets, you can be confident that TwinStar Credit Union is financially strong, growing and prepared to continue offering high value financial services to our members. You may continue to conduct transactions as you have in the past: in person at another TwinStar branch, via online and mobile banking, over the telephone, and at ATMs.
Our closest branches are in:
Hazel Dell – 1307-A NE 78th Street, Vancouver WA 98665
Mill Plain – 14610 SE Mill Plain BLVD, Vancouver WA 98684
Vancouver Mall – 8405 NE Vancouver Mall Drive, Vancouver WA 98662
Visit us at www.TwinStarCU.com/branches to find the nearest surcharge free ATMs near you.
We'll continue to invest in new technologies to make account access available on your terms - whenever you want and from wherever you are.
If you need additional assistance, please call one of our helpful Contact Center representatives at (800) 258-3115 or contact us via our website at www.TwinStarCU.com. We'll be happy to answer any questions you have about this transition. We appreciate your membership at TwinStar Credit Union and look forward to meeting your financial needs in the future.
Team
Business Services Manager
Serving Southwest Washington and Wilsonville
Mortgage Loan Originator
Serving the Vancouver and Portland areas