As part of our mission to make member's lives easier, we're excited to announce that we've broken ground on two new TwinStar branch locations in the Aberdeen and Hazel Dell areas.
For these new branches, we are taking a new approach to do banking differently. Part of this approach will include a new branch layout, designed to allow more direct interaction with our members without any barriers or teller lines separating the conversation. The new branches will also feature a "tech bar" with a station to charge your devices. These updates will come with brand new, state-of-the-art buildings with beautifully updated interiors, improved esthetics, brand new furniture, and a children's area with interactive digital tablets.
Having been long-established in the community, it was important that our new branches remain high-level service locations for our members. Keeping this in mind, the Aberdeen branch will be conveniently located in the lot directly next to our current location, with the current building being converted at a later date into a remote drive-thru with an RV lane. Along with the drive thru, there will be improved parking for members. The Aberdeen branch will open in winter 2017.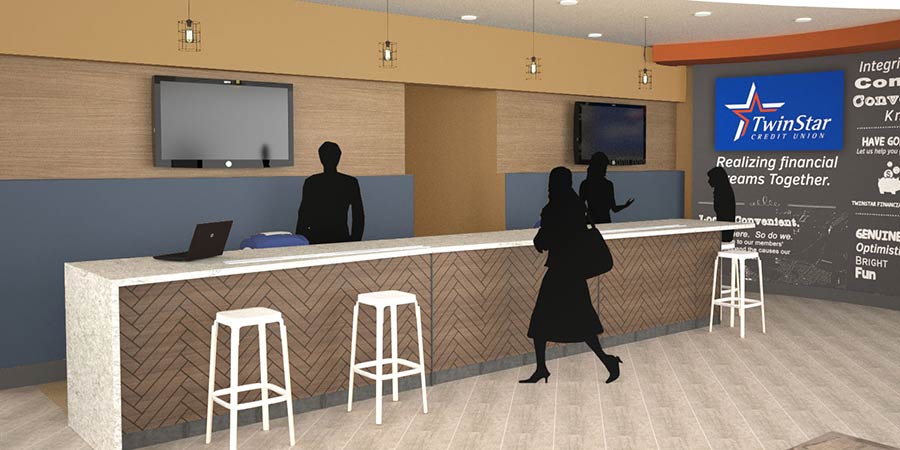 To better accommodate our growing team and membership base, our Hazel Dell Branch will be a fresh new start in a new location. The branch will be moving just down the road to the Hazel Dell Marketplace alongside many other retailers in December 2016. In an effort to create a more enjoyable member experience, Hazel Dell will also have new features like a full-service coffee bar.
We want to assure our members that while we are making some big changes, we're still the same TwinStar. We will continue to provide great service with the same smiling faces you've grown familiar with over our many years of service. In an effort to show our dedication to member service, we are pleased to announce that not only are these two new branches being constructed, but Hazel Dell will have something brand new - Saturday hours from 9:30 a.m – 2:00 p.m.
Keep up on our social media sites to get up-to-date information and exact opening dates.
Thank you for allowing us to serve you.