Committed to Community
Community commitment is at the heart of TwinStar. And it's not a new idea – we've been at it since 1938.

Over $581,798 given to our communities in 2022.

It's more than giving – at TwinStar it is DOING!
TwinStar employees are passionate about service. In 2022 our employees volunteered nearly 1,699 hours at various charity and nonprofit organizations. The economic impact of this volunteer work was $48,510. In addition to Team TwinStar service projects, our employees each receive a full day off to volunteer at an organization of their choice. 
You can learn more about how we supported our local communities in our 2022 Community Impact Report.
TwinStar supports our communities through sponsorships and participation in many community events.  These events foster community pride and strengthen relationships.  Below are a few of our favorite events and organizations we sponsor.
Committed to Community
Serving the community is our passion. Our partners are committed to our communities - so are we.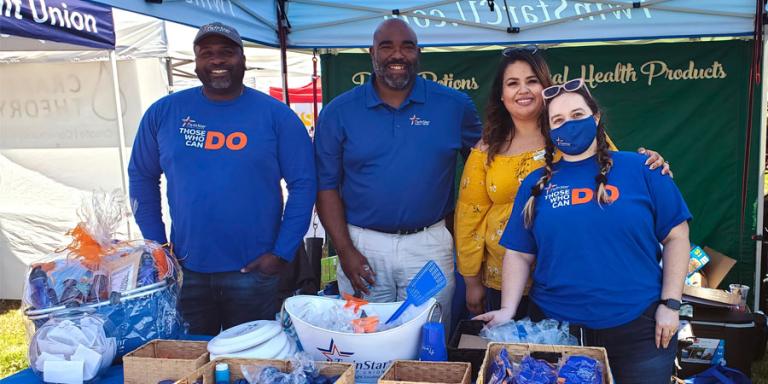 SummerFEST 
Cityoflakewood.us/summerfest
Thousands visit Lakewood to enjoy this summer spectacle every year in July. Classic cars, international performances and unique flavors are all part of this one of a kind community event.  TwinStar is excited to sponsoring this free community event again. Look for us there!
Tacos in the Park
tacosinthepark.com
Support a great cause at Tacos in the Park whether you love tacos, craft beer, live music or being involved in the community.  TwinStar is excited to serve as the gold sponsor for this event. This event brings something for everyone (21+ please!) while raising money to support The ARC of SW Washington.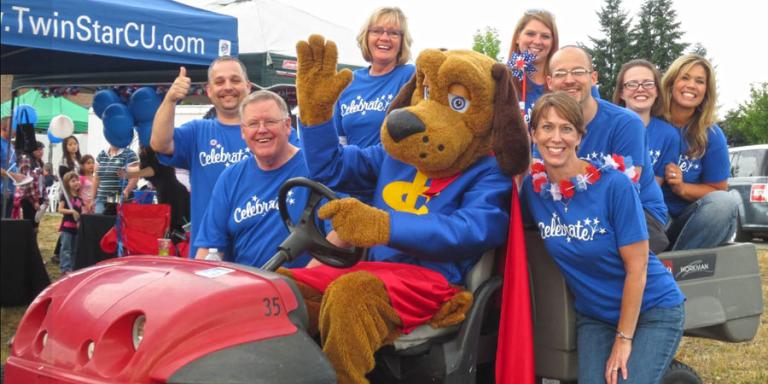 Lacey Fireworks Spectacular
laceyparks.org
For over 50 years, Lacey has celebrated the 4th of July holiday a day early with fireworks, food, music and fun. It has been our pleasure to be a presenting sponsor year after year! We can't wait to see you there!
Committed to Education
We started as a teachers' credit union and education is at the heart of everything we do.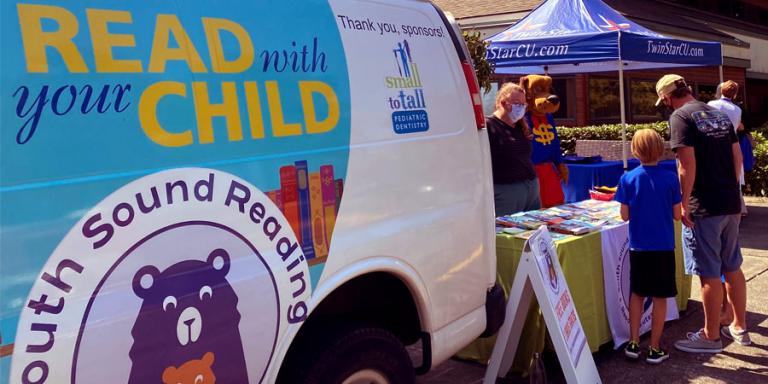 Summer Reading Program by the South Sound Reading Foundation 
southsoundreading.org
TwinStar partners with the Summer Reading Program by purchasing books, available in both English and Spanish. Students participate with reading activities then come to the NTPS district office to receive a free book.  
Partnerships with various schools
We partner with various schools like Jefferson Lincoln Elementary in Centralia where Dollar Dog attends assemblies to encourage students to have regular attendance. At Rochester High School in Thurston County we created Positive Fridays to help educators finish the school year strong with a cornhole tournament, ice cream truck, pet photo contest and more.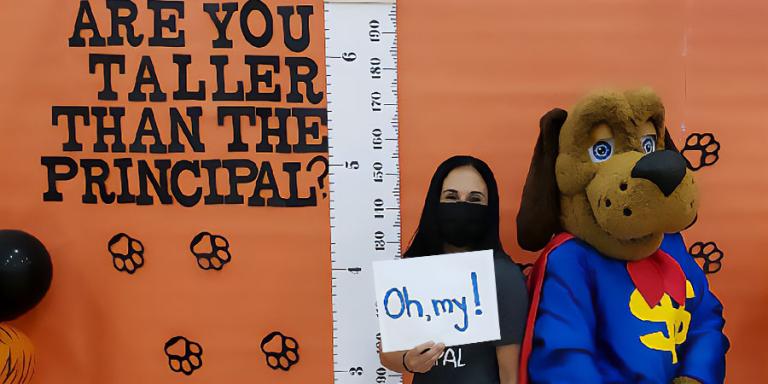 Scholarships, Grants, School Lunch Debt and More
We fund multiple foundations supporting scholarships, principal checkbooks, student success grants, and paying off student lunch debts.
New Employee Orientation - North Thurston County Public Schools
TwinStar attends new employee orientation at schools to welcome new employees and appreciate them for selecting education as a career.
Teacher Appreciation Week 
TwinStar's Community Engagement team travels throughout our service areas setting up gourmet coffee bars, ice cream or doughnut trucks to support educators during teacher appreciation week.
Committed to Social Responsibility
We invest time and resources into your communities to enrich the places where we live, work and play.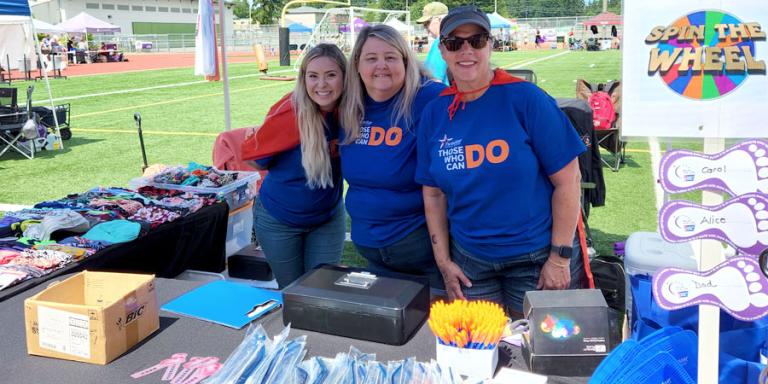 American Cancer Society
Relay for Life
In 2021, TwinStar was honored to be recognized by the American Cancer Society as a top sponsor and fundraising team for the Thurston Relay for Life. In 2022, TwinStar was the 7th highest fundraising team at the Relay for Life of Thurston, which finished in the top ten of all the Relays across the nation. 
Community Youth Services 
communityyouthservices.org
Serving the South Sound area of Washington, it supports at-risk youth and their families with programs devoted to behavioral health & wellness, education/employment, shelter and housing, and much more.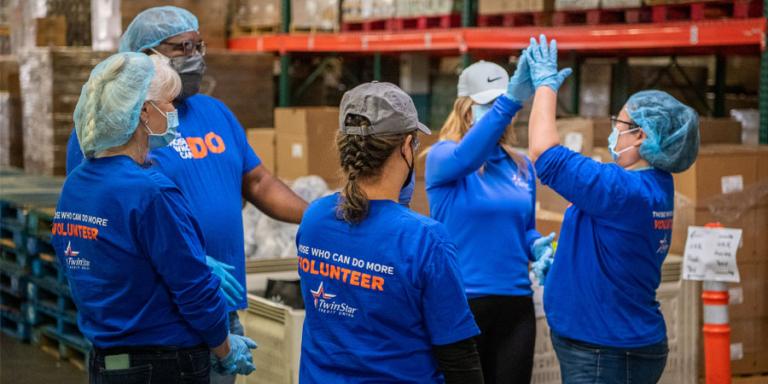 Emergency Food Network 
efoodnet.org
We support the mission of Emergency Food Network to provide Pierce County with a consistent, diverse and nutritious food supply so that no person goes hungry. The Emergency Food Network Repack Project volunteers transform bulk food shipments into family-sized portions that are ready to help feed the community. 75+ Pierce County food pantries, meal sites, and shelters benefit from EFN. We also provide sponsorship for EFN fundraising events and serve as the Match Sponsor for Giving Tuesday.
United Way of Thurston and Lewis Counties
unitedway-thurston.org | lewiscountyuw.com
By supporting United Way of Thurston and Lewis Counties, they can help improve the health, education, and financial stability of the communities they serve. They offer services and programs ranging from early childhood education to emergency services.
Washington Center for the Performing Arts
washingtoncenter.org
We also support the arts. More than 2 million people have enjoyed the Washington Center since it opened its doors in 1985. The Center is committed to providing a wide variety of entertainment and cultural activities for all ages.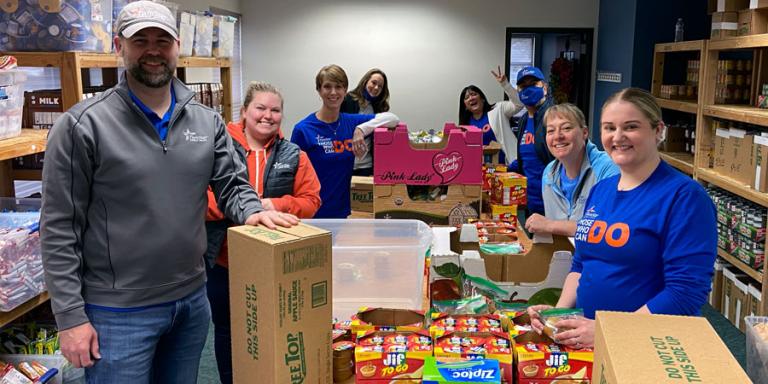 All Kids Win
allkidswin.org
TwinStar provides volunteers and financial support to All Kids Win, helping hungry and at-risk students with weekend food and support so they can focus on their education.
Committed to Financial Wellness
Everything we do is centered on educating and empowering people to realize their financial dreams.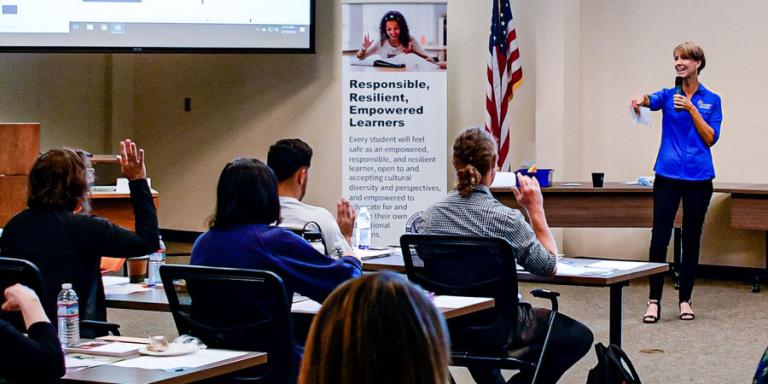 We provide a variety of free workshops at libraries, school districts, and financial education for students. We also hold financial wellness programs for preferred business partners and members via TwinStarCU.com.
MoneyEdu
twinstarcu.com/moneyedu
Empowering members through financial knowledge. Hundreds of adults and teenagers enroll in our financial wellness program each year to increase their financial knowledge and well-being.
Financial Literacy
We teach financial literacy at schools and higher education to foster financial health and well-being. Students can carry a range of financial tools and knowledge for life.
Committed to DEI
Promoting diversity, equity and inclusion in our communities nurtures meaningful and lasting changes to create welcoming spaces for all.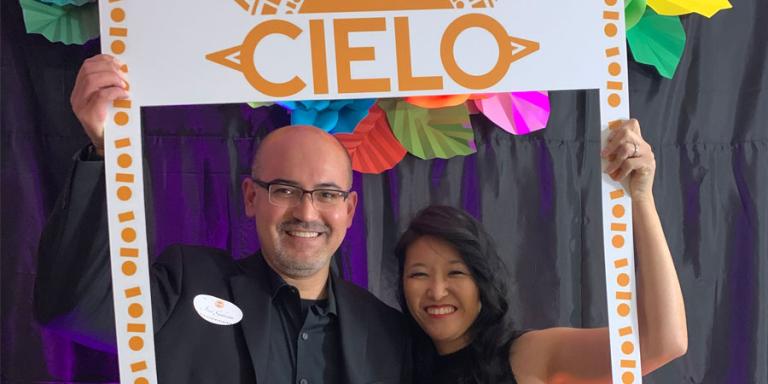 CIELO
cieloprograms.org
CIELO promotes community, self-sufficiency, and leadership to Latinos in the South Puget Sound. 
Saint Martin's University DEI Institute
stmartin.edu/directory/offices-departments-directory/diversity-and-equity-center
Saint Martin's University DEI Institute aims to empower faculty and staff with the knowledge and skills to promote diversity, equity, and inclusion in and out of the classroom. TwinStar helps fund food, supplies, and curricula materials for attendees.
Pizza Klatch
pizzaklatch.org
The mission of Pizza Klatch is to foster resilience in LGBTQ+ youth and create a safe and positive school experience through support, education and empowerment. TwinStar is sponsoring all Pizza Klatches for Yelm High School for the 2022 - 2023 school year.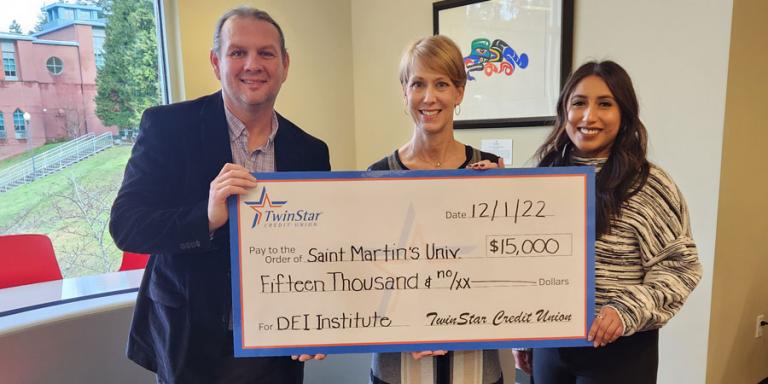 One School/One Book 
readtothem.org/one-school-one-book
The One School/One Book campaign at North Thurston Public Schools promotes all students within each school to read the same book at the same time.  This creates excitement around the book and expands a sense of community among students, parents, teachers and staff and beyond.  For NTPS this means approximately 352 classes with over 8,500 students will get the opportunity to learn about other cultures and backgrounds. TwinStar has committed $50,000 to purchasing the books for two years.
A Step Ahead Pierce County 
asapc.org
A Step Ahead supports families of infants and toddlers with developmental delays or disability by enhancing their development and relationships both at home and in their communities. We also serve as one of the top sponsors of their annual fundraising event. Our own Scott Leingang (Director of Mortgage) is Board President.
Our official statement on DEI
We believe diversity not only helps our organization rid itself of blind spots, but also helps us relate better to the communities we serve.  Diversifying management and leadership is also a better reflection of the members we serve.  In order to effectively make this commitment, we must institute readiness, recruitment, and retention practices that integrate diversity, equity and inclusion into our mission and work.  In those three terms – DEI - readiness refers to our organization's capacity and preparedness to foster diverse viewpoints, support employees and partner organizations through inclusive and equitable practices and culture; recruitment means the active procurement of diverse talent pools; and retention means building meaningful pathways to promotion and building kinship within the organization, so all differences are valued.
Cultural equity embodies values, policies and practices to ensure everyone, including but not limited to those who have been historically underrepresented based on race/ethnicity, age, disability, sexual orientation, gender, gender identity, socioeconomic status, geography, citizen status or religion, are represented in our organization.
TwinStar Credit Union is committed to a diverse and inclusive workforce where our employees can develop and succeed.  We also strive to be the best credit union for our members, and pride ourselves in offering financial products and services designed to help ALL members achieve their financial dreams.  We recognize we must continue to listen, learn and help drive meaningful change in our organization, community, and industry.
Thank you to our community partners!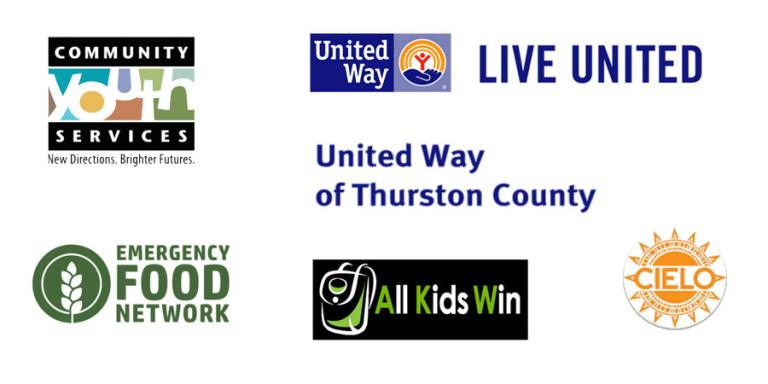 • All Kids Win • CIELO • Emergency Food Network • Community Youth Services • Saint Martin's University • Washington State Combined Fund Drive • City of Lacey • Olympia Little Theatre • Boys & Girls Clubs of Thurston County • Boys & Girls Clubs of SW Washington  • A Step Ahead Pierce County • The Arc of SW Washington • Police Activities League • South Puget Sound Community College • Aberdeen Fire Department • Discover! Children's Museum • MultiCare Foundation • Asia Pacific Cultural Center • American Cancer Society • Rebuilding Together Thurston County • Learning Avenues Child Care Centers • Senior Services for South Sound • Visiting Nurses Foundation • United Way of Thurston County • United Way of Lewis County • United Way of Grays Harbor