Mortgage Postcard Scams - What to Watch For
Have you received a postcard regarding your mortgage that appears to be from TwinStar Credit Union? You aren't alone. We have had TwinStar members alert us that they have recently received these scam postcards such as the one shown below.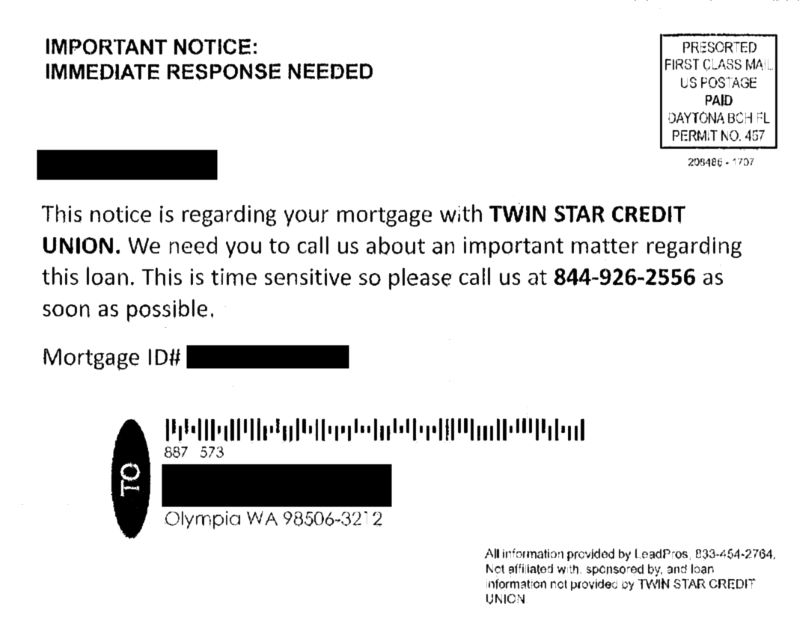 Please know that these type of communications are not from TwinStar. TwinStar would not and will never contact you about your loan via postcard. 
These types of mailers are trying to create a sense of urgency and concern in how they communicate - in an attempt to get you to reach out to them. Do not respond to the phone number listed on the card. Destroy and dispose of the postcard as you would any other junk mail. 
The scam postcard reads: 
"This notice is regarding your mortgage with TWIN STAR CREDIT UNION. We need you to call us about an important matter regarding this loan. This is time sensitive so please call us at 844-926-2556 as soon as possible."
There are several ways to recognize the postcard is a scam:
It doesn't contain the TwinStar logo
TwinStar is one word, not two words as it appears on the postcard
The phone number listed to call is not a TwinStar Credit Union number
In the bottom right corner, there's a disclaimer that states, "Not affiliated with, sponsored by, and loan information not provided by TWIN STAR CREDIT UNION"
It lists a mortgage ID, which may or may not be correct. We would never put confidential account information on a postcard.
You might be wondering how the sender can get your address and know you have a mortgage with us. TwinStar is committed to protecting our customers' personal information and doesn't sell it to affiliates or third parties. However, some information about mortgages is public record — meaning anyone can access that information. For example, when a mortgage closes, it becomes public record. 
With scams on the rise, you can never be too diligent. If you ever receive something from TwinStar that seems suspicious, please contact us at 1.800.258.3115 or visit your local branch. We can confirm if it's legit or not.