Create your own
snow day
Transfer your balances to our Visa Platinum without balance transfer fees, plus a low promotional rate.*
Take advantage of a low promotional rate*
This year has you feeling like it's one long snow day with Zoom meetings, remote school, and working in jammies. Plus, you did all your holiday shopping online and ran a balance on your credit cards.
Take a break from high-interest rates and transfer your balances to our Visa® Platinum with a low promotional rate of 1.99% APR* for 12 months and a 6.00% variable APR* thereafter. And you'll pay no balance transfer fees. It'll feel just like a real snow day!
Already have a TwinStar Visa Card?
Send us a secure message in Online Banking or chat with us to let us know you're interested in completing a balance transfer. We'll connect you with a specialist to complete your transfer.
You'll need the following information to complete the balance transfer:
Name of your card issuer (Payee).
Full card number
Name as listed on the card
The amount you want to transfer
Payment mailing address (PO Box for payments)
TwinStar Visa Cards
For those in need of a basic credit card, the TwinStar Classic card is for you.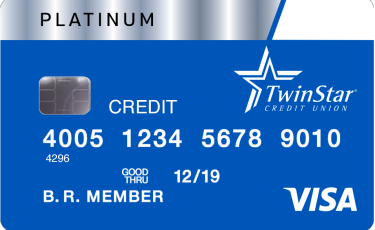 The Platinum Visa from TwinStar is the best option for members with established credit.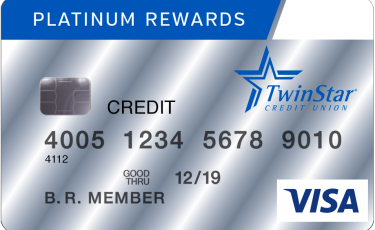 The Platinum Rewards card designed for our members who want to earn rewards with each eligible purchase.
Get your Visa card
Apply online or by phone 24/7 and get approved in minutes
Protect yourself with Card Manager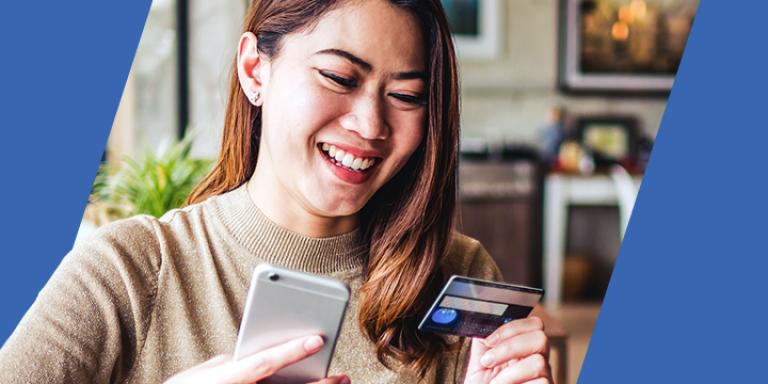 The power to control your cards is now in a convenient app. You can turn your cards off completely or just block them from being used in places you don't normally go. 
* APR = Annual Percentage Rate. All rates based on approved credit.
Method of Balance Computation: Average Daily Balance (including current purchases)
Grace Period: 21 days
Minimum Payment: 3% of the balance or minimum $25 whichever is greater.
Late Payment Fee: Payments more than 4 days past due will be charged $20.00

The fixed introductory rate applies to new purchases posted to a new Visa® account for 180 days from the account open date. Your rate for purchases and unpaid balances after the 180-day introductory period will be adjusted to non-introductory rates.
Rates are subject to change quarterly. The index is The Wall Street Journal Western Edition Prime Rate as of: February 28; May 31; August 31; November 30 of each calendar year, plus the margin. Rates are subject to change: March 10; June 10; September 10; and December 10 of each calendar year.
For full printable disclosure
Click here
. A printable card agreement can be
found here