The Board of Directors and Leadership Team of TwinStar Credit Union have officially announced plans to merge with Northwest Community Credit Union (NWCU). The merger would allow the combined organization to enhance what it offers members, such as access to more branch locations throughout Washington and Oregon, the ability to continue to expand its product and service offerings, as well as continuing to invest in new technologies that would provide greater digital convenience.  
Unlike a traditional bank merger, this is not a "buy out" or "acquisition." This merger represents a collaborative partnership between two financially strong credit unions committed to their members. The Boards of Directors and leadership of both credit unions recognize they can better serve the memberships of both credit unions together. 
The combined credit union would employ 700 employees and serve 245,000+ members throughout Washington and Oregon.
As the merger process continues, TwinStar will keep members informed of progress, including sharing important notices, dates, and events. If you have any questions that haven't been addressed in the frequently asked questions below, please send feedback here https://twinstarcu.qualtrics.com/jfe/form/SV_cD690GgQ7I52eTs or contact us by phone at (800) 258-3115.
Read the joint press release regarding this merger.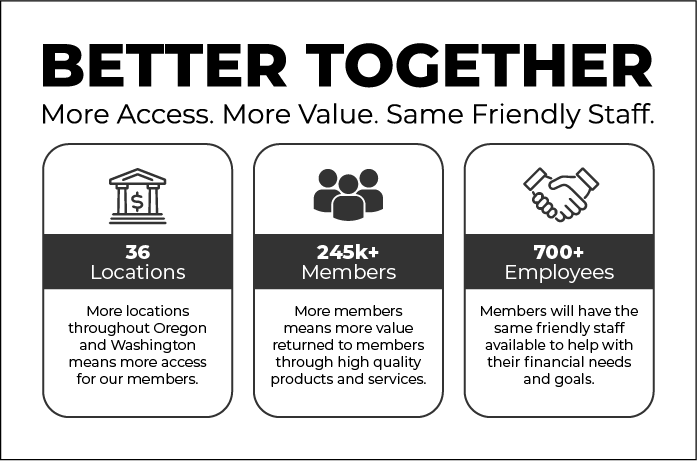 Frequently Asked Questions
How would this merger benefit TwinStar Credit Union members?
The strategic merger between NWCU and TwinStar Credit Union would provide the opportunity to achieve more positive member impact and value such as:
More Member Access:
A larger branch footprint would allow us to have more impact on existing members.  But bigger than that, through this partnership, we'd be able to serve more people and provide them with access to top-notch financial products and services.
Products/Services:
As a larger organization, we'd ultimately gain economies of scale which would allow us to offer a more robust product and service line, reduce costs, and return more value in the form of products, services, rates, fees, and community involvement to existing and future members.
More responsive to evolving financial needs:
This partnership would allow the credit union to better anticipate and meet the financial needs of members in a competitive financial services industry.
Enhanced electronic banking products:
This partnership would allow us to constantly assess and improve our technology solutions and make sure we're providing the best digital banking solutions possible for members now and into the future.
More branch locations:
Together we'd have 36 locations throughout Washington and Oregon. 
Same knowledgeable, friendly employees:
The same friendly staff at our branches would continue to be available to serve members.
Why has TwinStar CU decided to pursue a merger?
Although mergers are not our primary growth strategy, several years ago, we did formalize a merger strategy as part of our overall strategic plan. A merger between our two organizations would provide the opportunity to implement best practices to achieve more positive member, employee, and community impact and value. With an asset size of approximately $4 billion we would have greater influence in the financial services industry and would be better equipped to keep up with rapidly evolving trends.
What does a "collaborative" and/or "strategic" merger mean?
Both organizations believe by partnering we could better serve members, employees, and the community than we would as separate organizations. The goal of both organizations is to grow our membership, leverage best practices and enhance our products and services building a greater experience for employees and members.
Mergers are about expanding and organizing for efficiency. This means employees have greater opportunities for professional growth, designing process improvements and benefit from the organization's growth in perks, incentives, benefits, etc.
Do both credit unions support this partnership?
Absolutely. We are very excited about this merger with the growth and benefits it would bring to our members, employees, and our communities. 
What would this partnership do for the credit unions?
Our joint commitment and focus would be to provide the best member, employee, and community value. While notable that our combined assets would be approximately $4 billion, we are more excited about serving more than 245,000+ members with 36 branches throughout Washington and Oregon together. With a competitive physical presence and our combined strengths in product, services, and technology offerings, we'd be able to better serve our members and our communities.
What are the advantages of being a larger credit union?
Becoming a larger credit union with combined assets of approximately $3.8 billion would provide opportunities to increase efficiencies and return those savings right back to members in more access, greater value, new technology and services, competitive loan and deposit rates and higher levels of community giving.
Who is NWCU?
NWCU is headquartered in Eugene, Oregon. Founded in 1949 by six members of Weyerhaeuser, a wood products corporation, NWCU has grown to serve a diversified membership of more than 100,000 members with 13 locations located in 12 Oregon cities. NWCU is proud to support community and educational outreach, provide emergency relief, and gave more than $250,000 in direct support in 2021. NWCU committed to providing superior service, compassion, and loyalty to their members, their employees, and the communities they serve. Northwest Community Credit Union was recently named Best in State Credit Union in Oregon by Forbes.
Who would lead the organization?
Jeff Kennedy would be the CEO of the combined organization. John Iglesias would be the President of the combined organization.
Would I continue to get the same service and attention?
Yes. Both organizations are committed to providing high levels of service for members and this would continue to be a focus for the combined organization.
How would my accounts be affected?
There would be no affect to your accounts or account numbers at this time. Eventually, members from one credit union would need to convert to the other's core operating systems to enhance capabilities. This is still being investigated and would not occur until sometime in 2023. As that time approaches, the credit union would work to ensure a seamless integration, and would communicate important dates, changes, and next steps to ensure members can continue to conduct business with minimal disruption.
Would my rates change?
The rates on fixed rate loans and certificates would remain the same until the end of their existing terms. Other products would adjust as normal due to market conditions.
Would my accounts continue to be insured?
Yes. Credit Union deposits would continue to be federally insured by the NCUA, meaning you have up to $250,000 in protection for an individual account. The NCUA provides separate insurance coverage for deposits held in different ownership categories such as individual accounts, joint tenancy accounts, Individual Retirement Accounts (IRAs) and trust accounts.
Would you close branches?
At this time there are no plans for any branch closures. In fact, this merger would provide the opportunity to expand our branch locations and enhance our digital member experience.
What would the new name be?
Immediately following a successful merger process (i.e., legal day 1), credit union locations would continue to be designated as "TwinStar Credit Union Branch" or "Northwest Community Credit Union Branch" while we work collaboratively to determine what the credit union's unified name would be in the future
Would any employees lose their jobs as a result of the merger?
Both Boards and CEOs recognize each credit union has talented and dedicated team members and that a successful merger is dependent on retaining that talent. The intent is to retain all existing staff.
How would this merger benefit credit union employees?
As an organization grows, so does its workforce. Our culture of seeing and investing in people would remain the same. We believe our ability to invest in the success of our people would only expand as opportunities for promotions rise, and employee ideas shape our services and operational efficiencies. The tellers and member service representatives in the locations you visit would remain in those locations unless they decide to explore a new opportunity.
What is the merger timeline?
Our board of directors unanimously voted in favor of the merger in June. Upon receipt of regulatory approval, the NWCU members would vote. It is anticipated the merger would be finalized in early 2023, with systems fully integrated in late 2023 or 2024.